What is it like to be a pre - UI student???
Thursday, August 25, 2016
By Ellen Livia - 1:32 PM
Hey everyone!
Ellen is back, writing for you all.
Just so you know, I am glady saying that I ended up here, in University of Indonesia, pursueing higher education in one of a prestigeous college in Indonesia - at least that's what most people say about UI.
Danau UI, Rektorat, Balairung, Perpustaakaan Pusat UI
(Source: UI website)
Recently, the transition between going to college and finishing high school is such a rollercoaster for me. I have never thought I would end up here so here I am, overwhelmed by these
pre-
college orientation stuff that I think it's way too much to handle.
So, What is it like to be a pre-UI student???
AKA camaba UI


aka Calon Mahasiswa Baru UI
It's overwhelming!
The schedule is so tied up that I even have to go to UI in weekend! I have never been home for about a month, I miss home, I miss the people, but this schedule is annoying. We had OBM, PSAU, PCK, 17 Agustus-an, Choir practice, Freshman Ceremony, OKK, and PSAF.
OBM & PSAU
Orientasi Belajar Mengajar & Pengenalan Sistem Akademik Fakultas.
So, OBM & PSAU are the most essential part that I think are really useful for UI students like me who A. don't have any sibling that studied here before to tell me how is the system here and B. who is new to UI. Like I mean I have visited UI before, but I have not really been here as a student or someone that goes here a lot, you know what I mean. So, they introduced us how to use SIAK-NG, SCELE, the online platform that the student used to check their schedule and their grades, or sometimes submitting their assignments.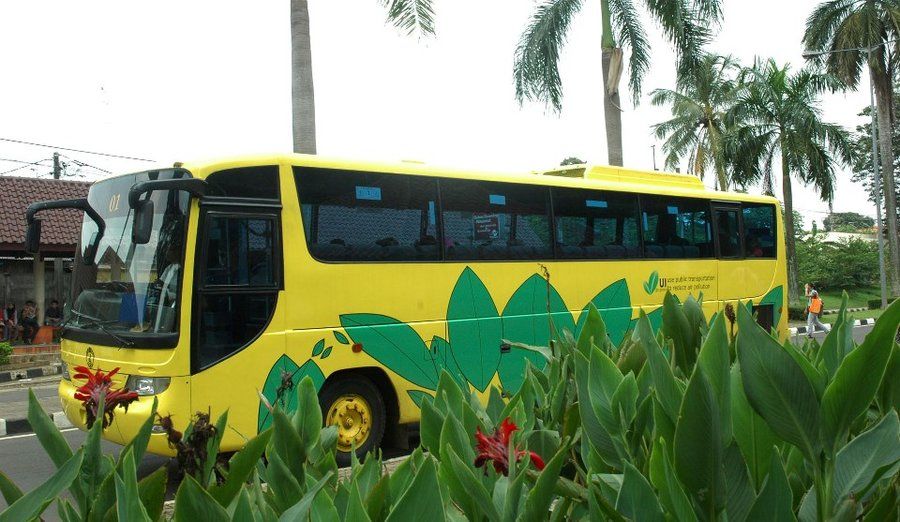 Bis Kuning (Yellow Bus)
(source: idntimes.com)
They also introduced us about the facility in UI, which are a huge library, bikun ( a bus that serve in UI area for free), free bike that you could borrow and turn it back at bike stations that mostly located next to the bus stop, gymnasium, stadium, dormitory, health care center, etc.
Sepeda Kuning (Yellow Bike)
(source: va-ui-s-life.blogspot.com)
PCK
Program Cinta Kampus
PCK is basically an activity that UI create for the soon to be freshman to love UI, the people and of course the environment. We had a group project where we have to help people , whoever he is in UI area. I and my friends decide to help to the 6 years old girl that sells a tissue / napkin in UI area and give her some food. We also had a fun time when we release fishes to the UI pond, we let go pigeons to fly instead of being in a cage, planting trees and how to survive if there is a fire accident.
OKK & Display UKM
Orientasi Kegiatan Kampus & Display Unit Kegiatan Mahasiswa
OKK is a 2 days activity from the beginning of the day, till the end of the day. I really mean it, literally I went to Balairung UI before the sun goes up. OKK is the main event that soon to be UI students gonna face. Yeah, the kind of typical indonesian OSPEK that you think it might be. But, well it turned out it was okay. We heard some cool experience from UI alumnee, founder Kitabisa.com, Najwa Shihab, Taufiq Ismail, and Anies Baswedan which are so inspiring.

Display UKM was also held couple days before OKK. Display UKM is another program that is basically an expo that show us any kind of club and sports that UI offer for the students. It's really cool. I enjoyed my time watching the performance of them.
The thing that bothered me a lot about OKK is the fact that the implementation of OKK itself and some rules that I think is kinda out of context. For example, I have to walk from Kutek to Balairung, no students allowed to use vehicle before OKK, or even to use ojek. I got it 7000++ students at a time could cause traffic jam. I am also okay that I gotta walk, because I do run sometimes. But dude, the seniors yell a lot, I mean, seriously? What if some students have some symptoms that don't let them to be able to walk that far while some seniors looking at them intensely. They are some people called Komdis, Komandan Disiplin. Their task is making sure that the freshman follow the rules that they made. Walking 2 miles while some people look at you intensely pushed me out of my comfort zone. Overall, the event itself was a fun experience, they had a lot of inspiring guests, but they need to fix the way of they implement the system. Teaching someone self-discipline does not mean that you have to push people off and be superrior. That gap you create between yourself and the others is a limit that won't let them to trust you enough even to listen to you.
17 Agustus-an, Choir practice, Freshman Ceremony
Whoever you are, If you are a UI student or an alumnee, I am pretty sure you know what is DWP. No It's not in Djakarta, It's in Depok. Dibyo Warehouse Project. LOL It is an inside joke for a fellow UI student. Once every week (Sunday), we had choir practice. It's mandatory for all the UI student because We are going to have a freshman ceremony and sing for the graduation. Every year, graduation in UI is held on July, the phylosophy is while the seniors go, UI will welcome the freshmen. Well, basically it is. I kinda tired of this. They have Cards that we have to collect that we would need that to get our Yellow Jacket ( UI almamater jacket). So, this is one of the reasons I have never gone back home for more than a month.
I still had PSAF & MADK, I will talk about it on my next post. It's the one that I hate the most yet I like it because I had a chance to talk to my fellow friends who are in the same departments and major. I am a CP (contact person). LOL it does not sound like what it is, I thought I am just going to help my class to be the representatives for the seniors if they had an importan information that the whole class needs to know, it turns out it's not just that. So, I sorta a lil bit regret for taking that step. I am feeling like I am the same person that I dislike. I used to think I dislike the seniors who push the freshmen, I kinda feel some seniorities over there, which I still think it is not okay. And now I realized I am the same kind of person that do the same thing.
I have been struggling about my thoughts for about a month. I haven't really talk to people, to my family, to my dearest friend. I didn't reply any messages yet. I had things that I need to decide soon that is bothering my mind a lot. I gotta take a break, have a cup of coffee and go for a short run I guess.
Anyway...
VOILA!
My hardwork is paid off! I got my Yellow Jacket :)
Well yeah, you noticed that everything in UI are yellow.
Yes I died my hair brown a month ago